Clavering Sound Mirror Archaeological Dig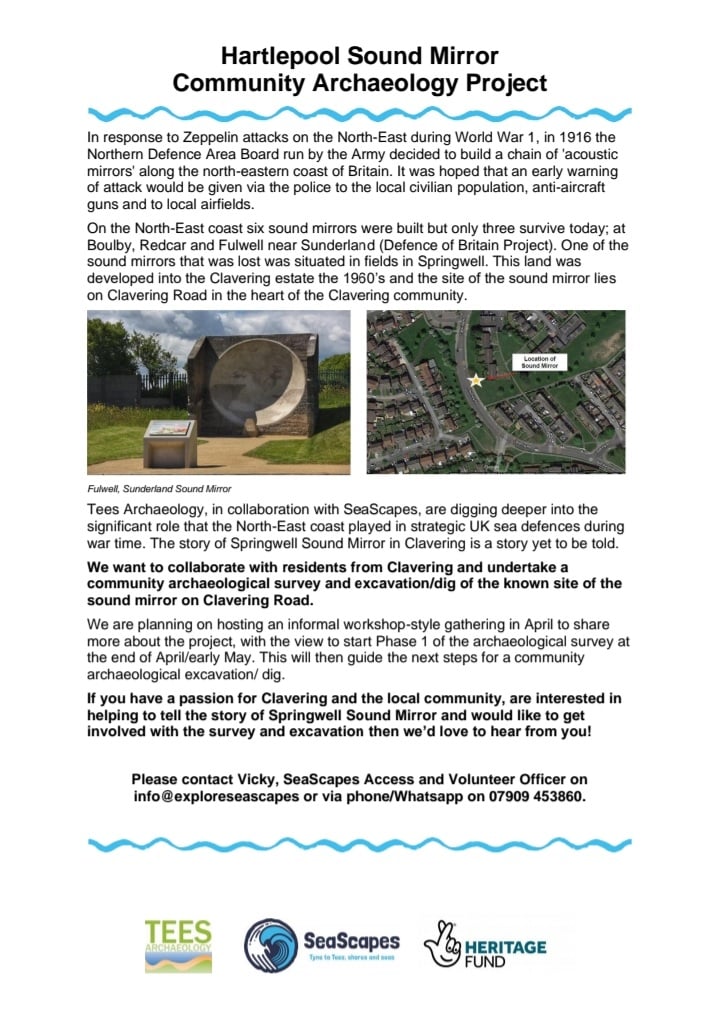 Do you live in, or have connections with Clavering in Hartlepool? We are looking for people from Clavering to get involved with a community archaeology project.
Tees Archaeology, in collaboration with SeaScapes, are digging deeper into the significant role that the North-East coast played in strategic UK sea defences during war time.
In response to Zeppelin attacks on the North-East during World War 1, in 1916 the Northern Defence Area Board run by the Army decided to build a chain of 'acoustic mirrors' along the North-Eastern coast of Britain. Six sound mirrors were built but only three survive today.
One of the sound mirrors that was lost was situated in fields in Springwell. This land was developed into the Clavering estate the 1960's and the site of the sound mirror lies on Clavering Road in the heart of the Clavering community.
We want to collaborate with residents from Clavering and undertake a community archaeological survey and excavation/dig of the known site of the sound mirror on Clavering Road.
If you are interested in helping to tell the story of Springwell Sound Mirror and would like to get involved with the survey and excavation please contact Vicky, SeaScapes Access and Volunteer Officer on info@exploreseascapes.co.uk