Blue Wave Dance Performance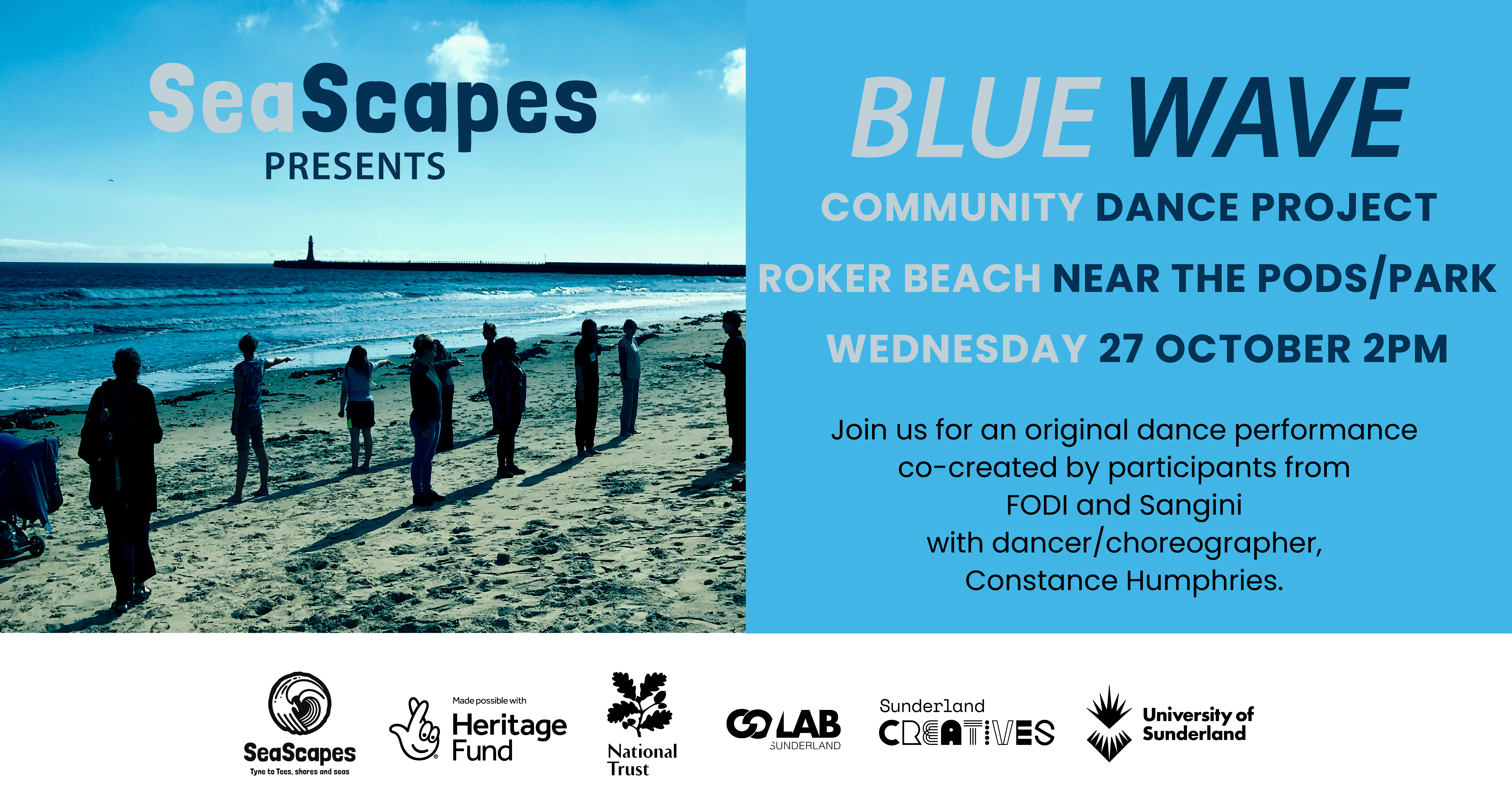 Blue Wave is an all-female, site-specific, improvisational dance performance. Inspiration for the performance comes from what can be seen, heard and felt at the coast, from the movement of waves to the flora and fauna that call it home.
The live performance will begin at 2pm on 27 October 2021 on Roker Beach. Please wear appropriate clothing. Feel free to share with your students and anyone you think might like to attend.
Project Information
Blue Wave has been co-created with members of FODI Sunderland (Friends of the Drop In for Asylum Seekers and Refugees in Sunderland) and Sangini, dancer Constance Humphries, Senior Lecturer in Fashion Design and Promotion (FACI)Naomi Austin and members of The National Trust.
Throughout September and October, participants have been supported through a variety of activities to create and perform a dance that is based on their experience their unique relationship with our North East seascape.
Activities have included going on a coastal walk, making a visual diary, and constructing and dying a costume, directed towards the creation of a costume for the final dance performance. The immersive experience is intended to create a sense of belonging, wellbeing and collaboration.
It is hoped that Blue Wave will initiate an open conversation between the community and our seascapes and will inspire agency, advocacy and responsibility for maintaining the health and sustainability of our coastline.
The original concept was developed during the Sea AIR Labs programme during 2021. Sea AIR is an artist in residence project that brings together artists and creatives, practice led researchers from University of Sunderland, Seascapes project partners and coastal communities living along the Seascapes coastline.
Blue Wave is commissioned by SeaScapes Co/Lab, a creative engagement project that is being led by University of Sunderland for SeaScapes marine heritage project.
Event Details
Venue:
Roker Beach, Sunderland